| | |
| --- | --- |
| Photo MG: Land Rover City Cab | |
Land assembled for the film Judge Dredd in 1994.
Land Rover 101 assembled in Dunsfold (Dunsfold DLR) for a film.
Created by Rover Land for the film Judge Dredd in 1994, it is based on a frame of 101 Forward Control. Its design appuit on the shape of the helmets used in American football, symbol of a solid protection for an evolution in a difficult medium. It y have 31 vehicles delivered to the production, some in control on the left like the prototype, the film being intended for the USA, others in control on the right. Their carrosery remains nevertheless fragile because it is entirely out of synthetic fibres. Only the prototype was arranged inside for catches of possible sights.
Two missions of the 101 City Cab.
This taxi of the future can circulate on the road as in all - ground, however the visibility is poor and its imposing stoutness make the operations difficult. Built before very for the turning of film, its second mission was for the English mark an excellent advertising blow. Indeed, in the scenario: Méga-city One, only what is most solid can survive!
But what became these Land Rover City Cab?
With the end of turning, the prototype was used by Land rover with fine advertising executives, some were dismounted has Dunsfold, and others were sold in the state and were used still today for advertising parades in general.
General characteristics of the Land City Cab.
A number of left models: 31
Frame of 101 inches of origin of the Land Rover Forward Control, Driving V8 Gasoline based on the licence of the 3.5L of origin GM/Buick, bought by Rover Land, Carroserie out of synthetic fibres.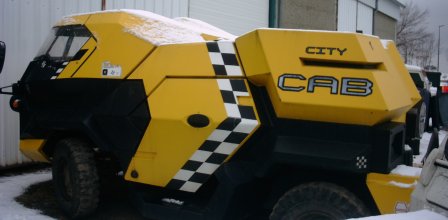 Photo MG: Land Rover City Cab




Land Rover 101 City Cab

Appearance in 1994 for film

Only the prototype is arranged inside for the catches of sights, the others are deprived of completion.





Photo: Land Rover City Cab
Source: MG