Land assembled in Belgium from 1952 to 1954
The Minerva production.
In the town of Mortsel, close to Antwerp in Belgium, the Nouvelle Minerva society started to assemble 8500 Land Rover of 80 inches between 1952 and 1953 to the army and Belgian gendarmerie. They bought Land Rover CKD (Complety Knocked Down) which included the frame of 80 inches and the engine made in England. Then, assembled them with a body, seats, tires, etc conceived and made in Belgium. These Land Rover Minerva did not receive an aluminium body like the English or Spanish models but a steel body. In October 1953, Minerva started to assemble Land Rover for the civil market. This version differed from the military version on the following point: a hole placed on the back cross-piece to allow the passage of the catch of force (PTO or Power Take Off). In February 1954, a first kit CKD of 86 inches was delivered and assembled. From 1955, a light modification was made by Minerva to the engine delivered by Land Rover. Actually, the exact number of Minerva assembled after 1953 is unknown. Today, Land Rover Minerva are sought per many collectors.
End of the Land Rover Minerva production.
In June 1956, Land Rover terminated the contract on the export of CKD (Complety Knocked Down) with Minerva company and proposed at the firm Beherman Demoen of Brussels, to import Land Rover in Belgium and in Luxembourg. A last batch of Land CKD was sent to the Minerva company in September 1956. The last ones could not use the name Minerva any more because type TT86 was a registered under Land Rover.
General characteristics of Land Minerva.
Left models: Series I CKD of 80 and 86 inches
Frame of 80 and 86 inches, and driving gasoline 4 cyl. of 1997 Cm3 of 52CV provided by Land Rover. Steel body processed in Belgium as all the remainder like the rims, seats, tires, etc...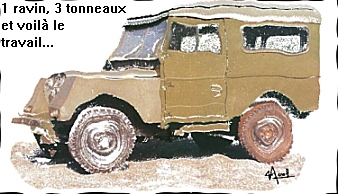 Land Rover Minerva

Appearance in 1952




Specificities: Engine gasoline 1,9L, frame of series I, steel body.